Caribbean Shrimp in Lime Sauce, Flambeed With Rum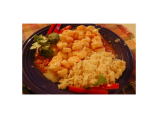 Photo by Queen Dragon Mom
Prep Time: 10 mins
Total Time: 20 mins
Servings: 4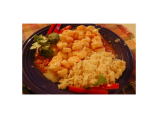 Photo by Queen Dragon Mom
About This Recipe
"Recipe from Spring/99 issue of Gusto Magazine, donated by Daniel et Daniel Catering, Toronto. I prepared this dish for a "Caribbean Theme", birthday barbecue for 20 guests, by adjusting the recipe, times 5. It worked very well, and was a popular dish. Because the recipe was increased, times five, it had to be cooked in two batches, using two skillets at a time, on the barbecue. Flambe on a barbecue presents a small challenge but it can be done. There were no leftovers"
Ingredients
32 medium shrimp, peeled and deveined

salt and pepper

1 teaspoon finely chopped garlic

1/2 tablespoon minced fresh ginger

1 tablespoon vegetable oil

1/3 cup dark rum

2 limes, juice of

3/4 cup coconut milk, plus

2 tablespoons coconut milk

1/4 cup 35% cream

cayenne pepper

1/2 lime, zest of

15 leaves fresh coriander

1 tablespoon julienned red pepper
Directions
Season shrimp with salt and pepper.

In a medium-heavy bottom skillet, over medium heat, saute shrimp, garlic and ginger in oil about 3 minutes, stirring constantly to ensure garlic and ginger do not burn.

Add rum and flambe shrimp.

Add lime juice and simmer about 1 minute.

Remove shrimp from pan and set aside.

Add coconut milk, 35% cream, cayenne pepper and lime zest to pan; bring to a boil.

Reduce heat and simmer about 5 minutes, or until sauce thickens slightly.

Return shrimp to pan until heated through.

Do not allow sauce to boil.

Adjust seasoning, if necessary.

Garnish with coriander and red pepper.