Seafood Gumbo - New Orleans Style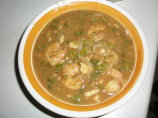 Photo by Brew City Chef
Prep Time: 30 mins
Total Time: 2 hrs
Servings: 8-10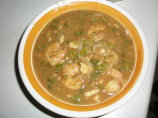 Photo by Brew City Chef
About This Recipe
"Beautifully presented in fine New Orleans style, this recipe appeared in the Spring/99 issue of Gusto Magazine, compliments of executive chef Richard Benz, Upperline Restaurant, New Orleans. A crisp chablis would complement this dish and prepare your palate for a delicious dessert of Bananas Foster. I have prepared Seafood Gumbo - New Orleans Style, served it to appreciative guests, eager to also enjoy the above mentioned dessert. This recipe serves rather a large quantity and is therefore suitable for larger families, or "company's coming" meals. Note: While the recipe stipulates specific quantities of seafood items, there is no reason why chefs cannot increase the quantities... to thicken the sauce. For instance, additional shrimp; add squid if you like.... Okra will thicken the "sauce" also..."
Ingredients
2 cups olive oil

2 cups flour

2 teaspoons chopped garlic

3 yellow onions, finely sliced

3 green bell peppers, finely diced

1 bunch celery, finely diced

1 tablespoon dry oregano

1/2 tablespoon dried thyme

1/2 tablespoon cayenne pepper

32 ounces clam juice

2 cups water

1 bunch green onion, chopped

1 bunch parsley, chopped

1 lb white fish fillet, diced into 1/2 inch 1 cm cubes ( haddock, etc)

1 lb shrimp, peeled and deveined

salt and pepper

Tabasco sauce, to taste

2 cups cooked white rice
Directions
In a large, heavy-bottomed pan, over medium heat, heat oil until hot.

Add flour, whisking constantly.

As roux turns from sand colour to light brown to caramel colour, turn down heat.

Continue cooking and whisking constantly until roux is a dark brown colour.

Increase heat to medium and add garlic, yellow onions, celery and bell peppers to roux.

Cook 10 minutes.

Add oregano, thyme and cayenne.

Add clam juice, water, green onions and parsley, stirring until combined; bring to a gentle boil; Reduce heat to low, and simmer.

Add white fish and shrimp, cook for 10 minutes.

Add salt, pepper and Tabasco.

Reduce heat to extremely low and simmer covered, for 1 hour- stirring frequently to prevent flour from burning.

Remove from heat and serve over white rice.