Asian Style Chicken Breasts and Bacon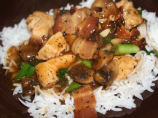 Photo by ~Nimz~
Prep Time: 20 mins
Total Time: 50 mins
Servings: 4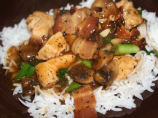 Photo by ~Nimz~
About This Recipe
"This was in an issue of Food and Wine. It looked great and I thought I would share. I haven't made it yet, still looking for Chinese 5-spice powder."
Ingredients
3/4 cup chicken stock or 3/4 cup beef stock or 3/4 cup low sodium chicken broth

1/4 teaspoon Chinese five spice powder

2 tablespoons peanut oil

1/2 lb lean thick slab bacon, cut inot 1 1/2 inch pieces

4 cloves garlic, sliced 1/8 inch thick

1/2 lb boneless skinless chicken breast, cut into 1 1/2 inch pieces

salt and pepper

1/2 lb white mushroom, caps only,quartered

1/2 cup dry white wine

1 tablespoon soy sauce

2 scallions, cut into 1 inch pieces
Directions
In a small saucepan, mix the stock and 5-spice powder and simmer over low heat for 3 minutes.

Set aside.

In a large skillet, heat 1 tablespoon of the peanut oil.

Add the bacon and cook over low heat until most of the fat is rendered and the bacon is browned (about 15-20 minutes).

Add the garlic.

Saute for 2 minutes.

Add the chicken.

Season with salt and pepper.

cook over medium heat until the chicken is brown and just cooked through (about 8-10 minutes).

Remove from skillet.

Heat the remaining 1 tablespoon peanut oil in skillet.

Add mushrooms and saute over medium heat until all of their liquid has evaporated and they start to brown (about 8 minutes).

Remove mushrooms to plate.

Add wine to skillet and simmer over medium-high heat until it is reduced by half.

Add the soy sauce, spiced stock, bacon, garlic, chicken and mushrooms.

Cook, stirring, until heated through.

Add scallions.

Serve (over rice).