Beef Medallions with Cognac Sauce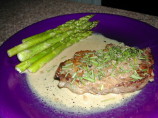 Photo by hepcat1
Prep Time: 25 mins
Total Time: 33 mins
Servings: 2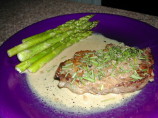 Photo by hepcat1
About This Recipe
"This is another yummy and easy steak recipe. It can be easily doubled or tripled making it perfect for company."
Ingredients
2 tablespoons unsalted butter

1/4 cup chopped shallot

1 teaspoon brown sugar, packed

1 cup reduced-sodium chicken broth

1/2 cup beef broth

1/2 cup cognac or 1/2 cup brandy

1/4 cup whipping cream

2 (5 ounce) beef tenderloin steaks, about 1 inch thick

fresh chives
Directions
In a medium saucepan, melt 1 tablespoon butter over medium heat.

Add shallots and saute about 4 minutes, until tender.

Add brown sugar and cook, stirring, 1 minute more.

Add the chicken and beef broth and the Cognac.

Simmer until sauce is reduced to 1/2 cup, about 20 minutes.

Add cream.

The sauce can be made well in advance, covered and refrigerated or even frozen.

If frozen, thaw before proceeding.

Season steaks.

Melt remaining 1 tablespoon butter in a large nonstick skillet over medium high heat.

Add the steaks to the skillet and cook to desired doneness.

For medium rare, cook about 4 minutes per side.

Remove steaks from skillet and place on a plate, keep warm.

Add the sauce to the skillet and bring to a boil, scraping up any brown bits left from the steaks.

Season.

Slice the steaks and fan the slices on plates.

Top with sauce and chives.