"i Don't Believe It's...." Lemon Tofu Cheesecake!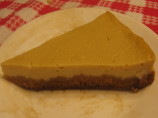 Photo by sszz
Prep Time: 2 hrs
Total Time: 2 hrs 35 mins
Servings: 8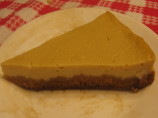 Photo by sszz
About This Recipe
"It's good... no kidding! Vegan or not, this dessert is a great dairy free treat. This works for people with diabetic and/or heart disease diet guidelines. Prep time is really chill time... there are about 5 minutes of actual busy work for this recipe, 35 minutes of baking and 2 hours of chilling."
Ingredients
Crust

2 cups graham cracker crumbs

1/4 cup maple syrup

1/2 teaspoon almond extract

Filling

1 lb silken tofu

1/3 cup sugar

1 tablespoon tahini

1/2 teaspoon salt

2 tablespoons lemon juice

1 teaspoon lemon zest

1/2 teaspoon almond extract

2 tablespoons cornstarch

2 tablespoons soymilk ( rice milk is also ok)

Topping
Directions
Preheat the oven to 350°F.

In a medium bowl, combine graham cracker crumbs, maple syrup and almond extract.

Mix until the graham cracker crumbs are moistened.

Prep a 9 inch springform pan by spraying the bottom and sides with nonstick oil spray, or by oiling with a paper towel.

Tip crumb mixture into the prepped springform pan and press it evenly on the bottom.

Bake the crust for 5 minutes, then remove it from the oven and set it aside to cool while you prepare the filling.

Blend all the filling ingredients in a food processor (or blender) for about 30 seconds, or until smooth.

Pour filling into the springform pan over the cooled crust.

Bake for about 30 minutes or until the top of the cheesecake is lightly browned.

Remove the cheesecake from the oven and allow it to cool.

Place the cooled cheesecake in the refrigerator for at least 2 hours until it is thoroughly chilled and firm.

To serve, take a long knife and heat the blade in hot hot water.

Slide the blade of the knife along the edge of the cooled cheesecake to ensure that it will separate from the pan.

Release the springform ring, slice, sprinkle with slivered almonds if desired and serve cold.