Gluten & Lactose Free Bread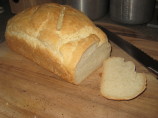 Photo by magpie diner
Prep Time: 15 mins
Total Time: 55 mins
Yield: 1 loaf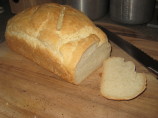 Photo by magpie diner
About This Recipe
"This recipe was posted for a request for gluten&lactose free bread. Quoting the website that this recipe was taken from, "This recipe comes from Glenna Vance at Red Star who was looking for a moist and tasty gluten-free bread that reduces the cholesterol (no egg yolks) and is also lactose-free. This is a real gift for gluten-free bread bakers!" I'm not really sure of the prep time"
Ingredients
Dry Ingredients

2 cups rice flour

1/2 cup potato starch

1/2 cup tapioca flour

1/3 cup cornstarch

1 tablespoon xanthan gum

1 1/2 teaspoons salt

3 tablespoons granulated sugar

1 tablespoon egg substitute

1 tablespoon Red Star active dry yeast or 1 tablespoon other active dry yeast

Liquids

4 egg whites

4 tablespoons canola oil

1 teaspoon cider vinegar

1 1/4 cups water
Directions
In a med sized bowl, measure all of the dry ingredients.

Stir or whisk well.

Combine liquids and mix well.

Large Bread Machine method: Transfer wet and dry ingredients and yeast to baking pan of bread machine in the order suggested by the manufacturer.

Press start.

Help mix dough during kneading cycle; Mixture will be very thick.

Use 1 rise and 1 knead cycle if machine is programmable.

Remove upon completion of baking cycle.

Oven method: Preheat oven to 375°F.

Lightly oil a 9-x-5-inch loaf pan.

Add yeast to mix and beat in liquids.

Beat 2 minutes.

Scrape into loaf pan, cover with plastic wrap, and let rise to the top of the pan.

Bake 40-45 minutes or until lightly browned.

Cool on a wire rack before slicing.