Grilled Cheese With Spinach & Tomato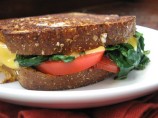 Photo by Ms B.
Prep Time: 5 mins
Total Time: 16 mins
Servings: 1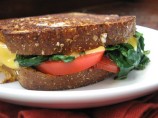 Photo by Ms B.
About This Recipe
"This is a wonderful sandwich!! I was making myself a grilled cheese sandwich about a week ago, and decided to get a little creative with it. It came out spectacular. This is a nice change from your average grilled cheese :-) AND DONT BE AFRAID TO TRY IT! Even if you dont like spinach, try the sandwich.. its great!!!"
Ingredients
1 slice American cheese ( or whatever kind you prefer)

2 slices tomatoes

6 spinach leaves, torn in half ( more or less, you decide, I like a lot!!)

2 slices white bread ( or whatever kind you prefer, if you use large slices you may need to add more ingredients)

1 tablespoon margarine or 1 tablespoon butter

1 dash salt

1 dash garlic powder
Directions
spray frying pan with cooking spray.

Turn stove on to medium heat, and add tomatoes to outside edges of pan, and add spinach to center.

Sprinkle salt and garlic over the vegetables.

Toss spinach frequently, and turn tomatoes over after a minute or so.

cook tomato just until it gets a little soft, but do not wait until it gets mushy.

Cook spinach until slightly wilted.

Take both out when they are done and set aside.

Wipe pan out with towel, and heat on medium.

Butter one piece of bread as you would for a regular grilled cheese sandwich.

Put bread in pan, and place cheese on top and then place spinach and tomato on top of the cheese.

Allow to heat.

Butter the other piece of bread, and fry sandwich until nicely browned on both sides.

Remove and Serve!