Grilled Lime-Marinated Flank Steak With Chipotle-Honey Sauce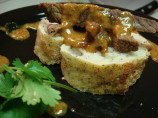 Photo by Kitty Kat Cook
Prep Time: 5 hrs
Total Time: 5 hrs 10 mins
Servings: 4-6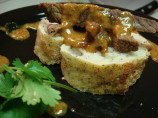 Photo by Kitty Kat Cook
About This Recipe
"The flank is not the tenderest cut of beef, but it may be the most flavorful. To make it tenderer, I marinate it and slice it against the grain very thin on the bias after cooking it. So what you start with is very thin steak, and what you end up with is large thin slices of char-flavored meat that resembles roast beef. The acid in the lime marinade is very complementary to the char flavor of the meet. Marinated it anywhere from 4 to 6 hours: Any longer than that, and the lime juice will actually cook the steak, leaving you with gray meat. Recipe adapted from Chris Schlesinger Adopted 9/06"
Ingredients
For Steak and Marinade

2 1/2 lbs flank steaks, choice grade

1 canned chipotle chile, chopped

2 garlic cloves, chopped

1 tablespoon chopped cilantro

1/4 cup vegetable oil

10 tablespoons freshly squeezed lime juice ( about 5 limes)

For Sauce

3 canned chipotle chiles, pureed

1/4 cup honey

2 tablespoons peanut oil

2 tablespoons balsamic vinegar

2 tablespoons brown mustard

1/2 cup freshly squeezed lime juice ( about 4 limes)

2 garlic cloves

1 teaspoon ground cumin

2 tablespoons chopped fresh cilantro

1 teaspoon salt

fresh cracked black pepper, to taste

4 slices crusty French bread, cut at an angle
Directions
TO MARINATE STEAK: Place the steak in a large dish or baking pan.

Mix together the chipotle, garlic, cilantro, vegetable oil, and lime juice in a bowl and pour over the steak.

Cover, and marinate in the refrigerator for 4 to 6 hours (do not marinate longer), turning occasionally.

Prepare the grill.

FOR SAUCE: Combine the chipotles, honey, peanut oil, vinegar, mustard, lime juice, garlic, and cumin in a blender or food processor and puree until smooth.

Stir in the cilantro and season with salt and pepper to taste.

TO PREPARE STEAK: Remove the steak and season with salt and pepper.

Grill over high heat for about 5 minutes on each side for medium-rare, 7 minutes on each side for medium, or to the desired doneness.

Remove the steak from the grill and let it rest for about 4 minutes.

With a sharp knife, thinly slice the steak across the grain and at a sharp angle.

TO SERVE: Serve the steak on top of a slice of the French bread and accompany each serving with several tablespoons of the sauce.