Roasted Eggplant, Onion and Garlic Dip or Spread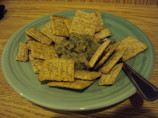 Photo by angieconway
Prep Time: 15 mins
Total Time: 45 mins
Servings: 6-8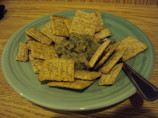 Photo by angieconway
About This Recipe
"Saw this on FoodTV's Cooking Thin show. This was easy to make and tasty. It was voted a hit in my house. Serve it with crackers or pita bread. It can be made ahead of time."
Ingredients
1 small eggplant

1 onion

3 cloves garlic ( increase or decrease to taste)

1 tablespoon extra virgin olive oil

2 teaspoons balsamic vinegar

1 tablespoon freshly squeezed lemon juice

1 tablespoon grated parmesan cheese

salt

black pepper, coarsely ground

1/4 cup cilantro, loosely packed roughly chopped
Directions
Preheat oven to 400 degrees F.

Rub eggplant and onion with olive oil and place on a baking sheet.

Bake about 25-30 minutes, until the eggplant and onion have softened, turning once.

Add the garlic to the baking sheet at the baking halfway point, approximately 15 minutes.

Remove from oven and cool until able to handle.

Peel the eggplant and garlic and place into food processor (easiest way to get the eggplant is to cut in half and scoop it out with a spoon).

Cut the onion into quarters or large chunks and add to the food processor.

Add vinegar, lemon juice, parmesan, salt and pepper.

Pulse until it is of a dip or spread consistency.

Add cilantro and briefly pulse.

Taste and adjust the seasonings.

Refrigerate until ready to eat.