Sour Cream-Streusel Coffee Cake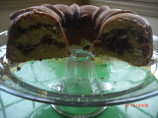 Photo by Marz
Prep Time: 20 mins
Total Time: 1 hr 20 mins
Servings: 8-10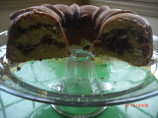 Photo by Marz
About This Recipe
"This is one great coffee cake to serve at brunch!"
Ingredients
1 1/4 cups coarsely chopped walnuts

1 1/4 cups packed brown sugar

5 teaspoons cinnamon

5 teaspoons unsweetened cocoa powder

6 tablespoons dried currants

3 cups flour

1 1/2 teaspoons baking soda

1 1/2 teaspoons baking powder

3/4 teaspoon salt

3/4 cup butter, at room temp

1 1/2 cups sugar

3 large eggs

1 tablespoon pure vanilla extract

1 (16 ounce) containers sour cream ( not low fat)

1 cup powdered sugar

1 tablespoon milk

1/4 cup chopped walnuts
Directions
Pre-heat oven to 350 degrees.

butter a bunt pan and set aside.

In a small bowl mix together the walnuts, brown sugar, cinnamon, cocoa and currants.

In a medium bowl sift together the flour, baking soda and baking powder.

In a large bowl beat the butter and white sugar until well blended.

Beat in eggs one at a time.

Mix dry ingredients and sour cream alternately into butter mixture.

Beat on high for 1 minute.

Pour 1/3 of the batter into the prepared bundt pan.

Sprinkle with half of the nut mixture.

Spoon 1/3 of the batter over the nut mixture, sprinkle with the remaining nut mixture and top with the remaining batter.

Bake for 1 hour or until a toothpick inserted in the deepest part comes out clean.

Remove from oven and allow to cool for 10 minutes on a rack.

Invert pan on the same rack and remove cake.

Allow to cool for 1 hour then transfer to a serving platter.

Whisk powdered sugar and milk in a small bowl until smooth.

Drizzle over coffee cake and sprinkle with nuts.

Serve warm or at room temp.