Sesame-Sunflower-Poppy-Flax Seed Buttermilk Bread!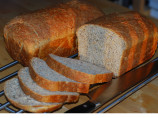 Photo by Katzen
Prep Time: 30 mins
Total Time: 1 hr
Yield: 2 9x5 inch loaves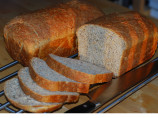 Photo by Katzen
About This Recipe
"This is a soft and chewy bread that is both tangy and wholesome! Four different seeds and whole wheat flour give this bread a hearty texture."
Ingredients
1 (1/4 ounce) package active dry yeast

1 teaspoon white sugar

3/4 cup water ( 110 degrees F/45 degrees C)

1 1/2 cups buttermilk

2 tablespoons margarine, melted

3 tablespoons honey

2 teaspoons salt

2 tablespoons sesame seeds

2 tablespoons flax seeds

2 tablespoons poppy seeds

2 tablespoons toasted wheat germ

2 tablespoons sunflower seeds

2 cups whole wheat flour

4 cups bread flour
Directions
In a small bowl, dissolve the yeast and sugar in the warm water.

Let stand until creamy, about 10 minutes.

Combine buttermilk, butter or margarine, honey and the yeast mixture in a large bowl.

Add the salt, all of the seeds and the whole wheat flour and wheat germ.

Stir to combine.

Add the bread flour, 1/2 cup at a time, mixing well with a wooden spoon after each addition.

When the dough has pulled together, turn it out onto a lightly floured surface and knead until smooth and elastic, about 6 minutes.

Lightly oil a large mixing bowl, place the dough in the bowl and turn to coat with the oil.

Cover with a damp cloth and put in a warm place to rise until doubled in volume, about 1 hour.

Preheat oven to 375 degrees F.

Grease two 9x5 inch loaf pans.

Deflate the dough and turn it out onto a lightly floured surface.

Divide the dough into two equal pieces and form into loaves.

Place the loaves into the prepared pans.

Cover with a damp cloth and let rise until doubled in volume, about 40 minutes.

Bake at 375 degrees F for about 30 minutes or until the tops are brown and the bottom of a loaf sounds hollow when tapped.

Makes 2 loaves.