Caramelized Bananas in Pine Nut Cookie Bowls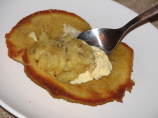 Photo by Luschka
Prep Time: 30 mins
Total Time: 50 mins
Servings: 6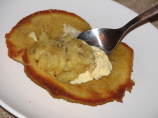 Photo by Luschka
About This Recipe
"I saw this on Christine Cushing live and changed it a little. You can leave the alcohol out all together if you wish. The cookies can be made well in advance and the bananas done quickly after your meal and the dish assembled when you are ready to enjoy your dessert. I made this for our thirteen dinner guests a couple of weeks ago and it was inhaled!"
Ingredients
pine nut cookies

118.29 ml pine nuts

118.29 ml sugar

59.14 ml flour

73.94 ml butter, melted

2 egg whites

2.46 ml vanilla

caramelized bananas

14.79 ml butter

2 bananas, sliced

14.79 ml brown sugar

2.46-4.92 ml cinnamon

14.79 ml brandy or 14.79 ml rum

4.92 ml lemon juice

14.79-29.58 ml evaporated milk
Directions
Pine nut cookie bowls: preheat oven to 350°F.

Line baking sheet with parchment paper.

Finely grind pine nuts with sugar and flour in food processor.

Transfer to a bowl and add butter, egg whites and vanilla and stir well.

Let sit in fridge 1 hour.

Evenly spread 1 tablespoons batter into a 4 inch round template (I cut a 4 inch circle out of bristol board and trimmed the edges) on the parchment paper.

Bake 8-10 minutes- watch and do not over bake.

Quickly remove cookies from sheet and drape over inverted custard bowl to cool.

Caramelized bananas: heat butter and bananas in pan.

Saute 1-2 minutes.

Add brown sugar and ginger and saute 1-2 minutes.

Add rum and milk, bring to a boil and remove from heat.

Assemble in cookie bowls: A scoop of vanilla ice cream with bananas over top.

Serve immediately.

YUMMY!