Apfelpfannkuchen (Apple Pancakes)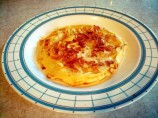 Photo by Wickerfire
Prep Time: 20 mins
Total Time: 40 mins
Servings: 4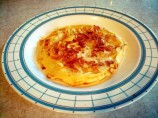 Photo by Wickerfire
About This Recipe
"Authentic German Apple pancakes"
Ingredients
2/3 cup flour, unbleached,unsifted

2 teaspoons sugar

1/4 teaspoon salt

4 large eggs, beaten

1/2 cup milk

2 cups apples, peeled and sliced

3/4 cup butter

2 tablespoons sugar

1/4 teaspoon cinnamon
Directions
Sift together the flour, sugar, and the salt.

Beat eggs and milk together.

Gradually add flour mixture; beat until smooth.

Saute apples in 1/4 c of butter until tender.

Mix sugar and the cinnamon together.

Toss with apples.

Melt 2 T butter in a deep frypan.

Pour in the batter to a depth of about 1/4-inch.

When set, place 1/4 of the apples on top; cover with more batter.

Fry pancake until lightly browned on both sides.

Keep warm.

Repeat the procedure 3 times, until all batter and apples are used.

Serve immediately.