Grammie Bea's Calf Liver and Onions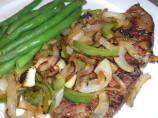 Photo by Bergy
Prep Time: 25 mins
Total Time: 50 mins
Servings: 4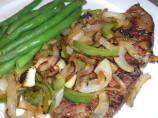 Photo by Bergy
About This Recipe
"I always serve this recipe with mashed potatoes and stewed tomatoes, as it goes well together."
Ingredients
2 lbs baby beef liver

4 large onions, peeled, cut in half then sliced

2 teaspoons crushed garlic

2 green peppers, cut into thin strips, and halved (optional)

salt and pepper, to taste

vegetable oil

To coat liver

2 -3 cups flour, for dredging

1 tablespoon garlic powder

1/2 teaspoon seasoning salt

1/4 teaspoon pepper
Directions
Fry up onions first in oil, and garlic, and salt, and pepper.

Sometimes I put in green peppers too.

When they are done, put them in a metal bowl, and cover, and set them aside while you cook the liver.

To cook the liver*, put 2-3 cups of flour on a large plate. Add garlic powder, seasoned salt and pepper, and mix well.

Dredge the liver on both sides, with the flour.

Turn the heat on high, and add a little more oil in the pan that the onions were cooked inches.

Get the pan hot, then turn down to med.

Add the liver to the pan, and cook on both sides, until cooked through.

Add the onions on top, turn down the heat, and let sit for a few minutes for the flavors to meld.

Serve liver smothered in onions and peppers.

I dip in ketchup and Voila!

YUM!

*I buy only baby beef liver.