Fresh Kielbasa with Sauerkraut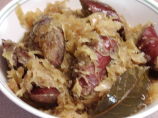 Photo by Rita~
Prep Time: 10 mins
Total Time: 2 hrs 10 mins
Servings: 10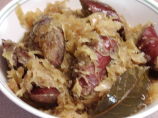 Photo by Rita~
About This Recipe
"I guess the Polish is coming out in me again! My mom's not so favorite (It's not hers) but I like it!! I've also cooked this slow cooker and stove top. Your choice. And many times cooked for three hours. Makes great left overs! Better the next day!"
Ingredients
1 lb fresh kielbasa

1 lb country-style pork ribs

6 tablespoons apple juice

3 large onions, chopped

3 carrots, sliced

1 large apple, diced

1/4 cup fresh parsley, chopped

2 bay leaves

1/2 teaspoon garlic salt

1/2 teaspoon caraway seed

1 cup chicken broth

8 cups sauerkraut, rinsed and well drained

1/2 cup white wine

2 tablespoons brown sugar

season with salt and pepper
Directions
Brown kielbasa and pork,set aside.

Drain all but 2 tablespoons fat.

Add apple juice, onions, carrots, apple, parsley, bay leaves,garlic salt,caraway seeds, and chicken broth; simmer cover for 20 minutes.

Stir in saurerkrat,wine,sugar,pork ribs and kielbasa that you cut into 1/4 slices.

Bake, covered,1 hour at 350 degrees.

Serve with mashed potatoes and good rye bread& butter.