Basic (No Tomato) Beef Stew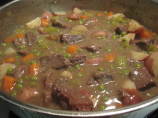 Photo by Katanashrp
Prep Time: 20 mins
Total Time: 2 hrs 50 mins
Servings: 4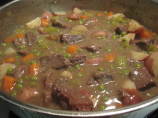 Photo by Katanashrp
About This Recipe
"This is a "basic" beef stew recipe. Please feel free to add your favorite herbs, spices and vegetables to make this recipe "your own". Serve with crusty bread and a tossed green salad for a complete meal."
Ingredients
3 tablespoons all-purpose flour

1 1/2-2 lbs lean stewing beef ( cubed round or your preferred cut)

2 -3 tablespoons cooking oil

3 1/2 cups beef broth ( or 3 cups beef broth plus 1/2 cup dry red wine)

1 medium onion, sliced

2 garlic cloves, minced

1/2 teaspoon dried basil, crushed

1/2 teaspoon dried thyme, crushed

2 1/4 cups peeled cubed potatoes

2 cups carrots, sliced thickly

1 cup sliced celery (optional)

2 cups sliced green beans ( OR 1 1/2 cups peas)

salt and pepper
Directions
Place flour in a plastic bag, add a few pieces of beef at a time shaking well to coat.

Heat oil in a Dutch oven or large sauce pan.

Add meat and onions, brown meat well.

Add beef broth (and wine if using), garlic, basil and thyme.

Bring all to a boil, reduce heat, cover and simmer for 1 1/4- 1 1/2 hours (or until meat is tender).

Add potatoes, carrots and celery, cover pot, and simmer for about 20-30 minutes (or until potatoes are almost done).

Add green beans (or peas) and simmer 10-15 minutes more.

Add salt and pepper to taste.