Pizza Hut Style Pizza Dough (Bread Machine)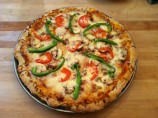 Photo by wombat1947
Prep Time: 2 hrs
Total Time: 2 hrs 20 mins
Servings: 6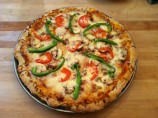 Photo by wombat1947
About This Recipe
"I came across the recipe from a copy cat recipe source. The 2 hours includes dough cycle time. This is one of the best pizza dough recipes I have found."
Ingredients
1 1/3 cups water

2 teaspoons sugar

1 1/4 teaspoons salt

2 tablespoons olive oil

2 tablespoons cornmeal

3 cups unbleached all-purpose flour

1 teaspoon baking powder

1/4 teaspoon garlic powder

1/4 teaspoon onion powder

1/2 teaspoon msg ( Accent*)

1 1/2 teaspoons bread machine yeast
Directions
Add ingredients (except for cornmeal) to machine bread pan in order as per manufacturer's instructions.

Set to "Dough" cycle.

Lightly grease one 9 x 13-inch pan and sprinkle with cornmeal.

When the dough cycle is complete, roll out dough and place in pan.

Let rest in pans for 10-15 minutes.

Add toppings of your choice.

Bake at 350°F until done (approximately 20 minutes, depending on the thickness of toppings).

I make the pizza in 9x13 rectangular pans rather than the round pizza pans, because the squares pieces are easier to reheat and pack in school lunches.