Salted Caramel-Cashew Bars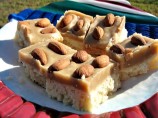 Photo by diner524
Prep Time: 12 mins
Total Time: 35 mins
Yield: 16 pieces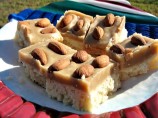 Photo by diner524
About This Recipe
"I came across a lot of different Salted Caramel Cashew Bar recipes this season and everyone had one reason or another as to why I would not make it. So this is my tweaked version of Tutti Dolci's recipe."
Ingredients
Crust

1/2 cup unsalted butter

1 cup flour

1/3 cup powdered sugar

1/8 teaspoon salt

Brown Sugar Caramel

1/2 cup unsalted butter, cubed

1/2 cup brown sugar

1 pinch sea salt

1/4 teaspoon vanilla extract

1/2 cup cashews

sea salt (optional)
Directions
Preheat oven to 350°F and line an 8-inch baking dish with foil. Whisk together flour, powdered sugar, and salt in a medium bowl. Cut butter into 1/2-inch pieces; sprinkle over flour mixture and use a pastry cutter to cut in evenly until mixture resembles coarse meal. Add dough to prepared baking dish; use a piece of parchment to press dough into an even layer. Bake for 23 minutes, until crust is lightly golden. Cool on wire rack.

Place butter and brown sugar in a heavy saucepan. Melt over medium heat, stirring constantly with a rubber spatula, until boiling. Once mixture boils, reduce temperature to medium-low and let bubble for 3 more minutes, stirring constantly. Remove from heat; carefully add salt and vanilla (mixture will bubble up). Quickly pour caramel over shortbread layer and spread with an offset spatula. Top with cashews, pressingly gently to adhere; sprinkle with sea salt. Chill in the refrigerator until completely set, about 1 hour.

Carefully lift foil and place bars on a cutting board; use a sharp knife to cut into squares. Store leftover squares in an airtight container at room temperature.