My O My.. Best Thai Beef Salad Ever!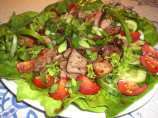 Photo by Fairy Nuff
Prep Time: 15 mins
Total Time: 15 mins
Servings: 4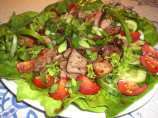 Photo by Fairy Nuff
About This Recipe
"This is one of the best Thai salads I have ever tasted and I just had to share it with my zaar family. Try it, you won't regret it. You can substitute the beef with the same amount of Pork fillets, chicken breasts or thigh fillets, or some firm tofu. When preparing this salad in advance, cook the beef, prepare the salad, and make the dressing, BUT STORE EACH IN SEPARATE CONTAINERS. Do NOT combine until you are ready to serve. This is an ideal portable lunch or picnic dish that can be transported in 3 small containers, and assembled on the spot."
Ingredients
30 ounces sirloin steaks, trimmed ( rump or fillet)

7 ounces salad greens ( any kind)

2 small red onions, finely sliced

10 kaffir lime leaves, shredded

3 large mild red chilies, seeded and shredded ( can add more if you like a BIG punch)

2/3 cup cilantro leaf ( coriander)

2/3 cup mint leaf

2/3 cup basil leaves

DRESSING
Directions
Brush the beef with a little oil and char-grill, barbecue, or pan-fry till cooked to your liking.

(I recommend medium rare for this recipe, if you can handle a little blood.) Set aside for five minutes and slice it thinly.

Place salad greens, onions, kaffir lime leaves, chili, cilantro, mint and basil into a salad bowl and toss lightly.

To make the dressing, combine the soy sauce, fish sauce, lime juice and sugar.

Stir the dressing well.

Place the beef on the salad and pour over the dressing.

Serve immediately.