Creamy Vegetarian (Not Vegan) Caesar Salad Dressing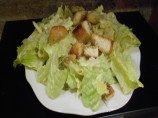 Photo by dgaspar
Prep Time: 20 mins
Total Time: 20 mins
Servings: 4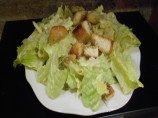 Photo by dgaspar
About This Recipe
"Contains egg but avoids the anchovies that are in all Worcestershire Sauces. (Read the label) Most restaurant dressings have anchovies, and if not most waitstaff are unaware that Worcestershire Sauce has anchovies. Also most hard cheeses are made with animal rennet so check that Parmesan. In Colorado, King Soopers deli has non-animal rennet Murray's Sartori Sarvecchio Parmesan. No cheese in dressing but consider this when you top your salad with Parmesan. Home made croutons are also the best - see additional recipe."
Ingredients
1 egg yolk

2 crushed garlic cloves

1/2 teaspoon prepared yellow mustard

1/2 cup olive oil

1 1/2 tablespoons lemon juice

1 tablespoon water

1/2 tablespoon balsamic vinegar

1/4 teaspoon salt

fresh ground pepper
Directions
Wisk mustard, egg yolk and crushed (I use a garlic crusher) garlic.

Very, very, very slowly add olive oil and whisk to incorporate. (At first I add about 1/4 teaspoon at at crack) later I add 1/2 teaspoon at a time, wisk in to incorporate, then add another 1/2 teaspoons and so on and so forth.

When all the oil is added it will look and feel like soft creamy butter.

The combo of yolk, mustard and oil now will allow water to mix in (oil and water will now come together).

So -- add 1 tbsp water and incorporate.

Then add 1 tbsp lemon juice and incorporate.

Then add 1/2 tbsp balsamic vinegar and incorporate.

Then add 1/2 tbsp more lemon juice and incorporate.

Add salt and pepper.

Done.