EJ's Pasta Primavera With Sausage (Lighter Version, No Cream)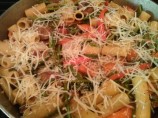 Photo by jc12972
Prep Time: 20 mins
Total Time: 1 hr 5 mins
Servings: 4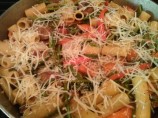 Photo by jc12972
About This Recipe
"I took my 9 year old nephew to the produce store with me. He was so excited to see all the fresh produce (he's just like me) and wanted to make a pasta dish. This is what we came up with, we loved it. Hope you try it."
Ingredients
1 lb rigatoni pasta

1 red bell pepper, seeded, cored and thinly sliced

1 small onion, thinly sliced

3 carrots, peeled and sliced 1 inch on a diagonal

1 bunch asparagus, washed, stems removed and sliced in thirds on a diagonal

10 garlic cloves, finely chopped

1 (14 ounce) cans diced tomatoes

1 chicken bouillon cube

parmesan cheese ( to garnish)

salt and pepper

1 tablespoon unsalted butter

2 tablespoons olive oil

1 (16 ounce) packages of sweet Italian pork sausage or 1 (16 ounce) packages chicken sausage, cut 1 inch on a diagonal

1/2 cup reserved pasta water
Directions
Heat a large pot of salted water to boil for pasta. Cook according to package al dente reserving 1/2 cup of pasta water.

In the meantime, heat a large deep skillet over medium heat. Add 1 tbs. olive oil, and onion and red bell pepper. Saute for 2 minutes, transfer to plate.

In same skillet add another 2 tablespoons of olive oil and carrots cook for 5 minutes, add asparagus cook for another 3 minutes. Transfer to plate with onions and peppers.

In same skillet add sausage, cook stirring occasionally until brown. Add garlic and cook for 2 minutes stirring occasionally. Add chicken bouillon cube, diced tomatoes and butter. Cover and cook for 1/2 hour.

Add veggies and pasta and reserved pasta water to sausage and tomato. Mix well to combine. Top with grated parmesan cheese.