Chicken Breasts Stuffed With Apples & Cheddar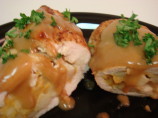 Photo by Kitty Kat Cook
Prep Time: 20 mins
Total Time: 45 mins
Servings: 2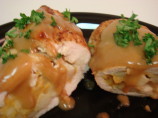 Photo by Kitty Kat Cook
About This Recipe
"I have been meaning to give this elegant sounding chicken dish for years and have decided to share it here even though I haven't tried it yet. I originally clipped this from a magazine years ago and thought it would be a lovely choice for a romantic dinner."
Ingredients
2 boneless skinless chicken breast halves ( pounded to a 1/4-inch thickness with a mallet)

118.29 ml cooking apple ( Golden Delicious or Granny Smith recommended)

29.58 ml sharp cheddar cheese

14.79 ml fine dry breadcrumb

14.79 ml unsalted butter

59.14 ml dry white wine or 59.14 ml apple cider

water, as needed

7.39 ml cornstarch

fresh parsley, chopped, garnish

salt, to taste

pepper, to taste
Directions
If you haven't already pounded your chicken breast halves, do so now- they should be 1/4" thin; season with salt and pepper to taste on both sides. Peel your apples unless you prefer them to have the skin on.

Combine apple chunks,cheese, and bread crumbs in a small bowl.

Divide the apple mixture into two portions and place one portion on top of each piece of chicken.

Roll up chicken into a bundle, using toothpicks to secure if needed.

Melt butter in a skillet, then brown the chicken briefly on both sides in the butter- just a few minutes each side to brown but not cook all the way through yet.

Once browned, add wine and 1/4 cup of water.

Cover pan and let simmer 15-20 minutes on medium-low heat- until chicken is no longer pink and completely cooked through.

Remove cooked chicken from the pan using a slotted spoon and set on two plates.

Remove toothpicks.

Whisk together 1 Tbsp of water and the cornstarch well and add to the pan juices.

Whisk until blended and cook and stir until thickened slightly (you may need to raise the heat a bit); test for seasoning and add more salt and pepper if needed.

Ladle over chicken and sprinkle parsley over tops as a garnish.