Grilled Turkey Breast With Cran-Apple Cremini Stuffing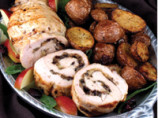 Photo by Info4YourLife
Prep Time: 20 mins
Total Time: 1 hr 5 mins
Servings: 4-6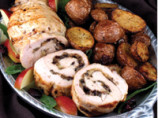 Photo by Info4YourLife
About This Recipe
"Grilled Turkey Breast with Cran-Apple Cremini Stuffing"
Ingredients
2 skinless boneless turkey breasts

8 cups cold water, divided

1/3 cup kosher salt

1/4 cup brown sugar, packed

1 teaspoon black peppercorns

2 tablespoons butter

1/4 cup chopped shallot

8 ounces cremini mushrooms, chopped

1 tablespoon finely chopped fresh sage

1/4 cup dried cranberries, chopped

1/2 small tart apple, finely diced

1/4 teaspoon salt

1/2 teaspoon ground black pepper

1/4 cup shredded swiss cheese

1 tablespoon olive oil
Directions
• In a medium sauce pan, bring 3 cups of water, salt, brown sugar, and peppercorns to a simmer. Stir until the salt and sugar have dissolved.

• Pour mixture, plus the remaining 5 cups of cold water, into a deep bowl. Add the turkey breasts, making sure they are fully submerged in the brine. Cover and refrigerate for at least 4 hours, or overnight.

• In a large skillet over medium-low heat, melt the butter and sauté shallots, Cremini mushrooms, sage, cranberries, and apple until tender and fragrant, about 10 minutes. Season with salt and pepper. Place stuffing in a bowl and allow to cool for 10 minutes before stirring in the Swiss cheese.

• Remove turkey from the brine, and discard brine. Place turkey on a cutting board, and pat dry.

• Using a very sharp knife, carefully butterfly each turkey breast, being sure to not cut all the way through. Open the turkey breasts up so they lay flat, like a book. Cover with plastic wrap, and using a meat mallet or rolling pin, pound the meat to an even thickness (about 1/2-inch thick). Divide the stuffing between the two turkey breasts, leaving 1/4-inch border around the outside. Starting at the long wide end, roll the turkey and stuffing up into a log, tucking in the ends. Use butcher's twine to tie the turkey roll to keep it from unrolling.

• Brush the outside of the turkey with olive oil, and season with salt and pepper.

• Preheat barbecue to 400 degrees F and grease the grill. Move the hot coals to one side, or turn off the gas on one side of the barbecue to create direct heat and indirect heat areas on the grill. On the direct heat side of the grill, sear the meat on all sides (about 4 minutes per side). Move the turkey to the indirect heat side and close lid. Roast over indirect heat until the internal temperature reaches 165 degrees F.