Grilled Chicken Tzatziki Wrap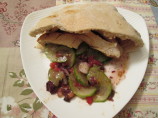 Photo by Nancy's Pantry
Prep Time: 20 mins
Total Time: 35 mins
Servings: 4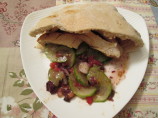 Photo by Nancy's Pantry
About This Recipe
"This delicious wrap is a slightly modified version from styleathome.com. For the best flavor it requires a marinade time of 2 hours minimum, which is not included in the prep time."
Ingredients
For wrap

For chicken marinade

1/2 cup yogurt

2 tablespoons honey

2 teaspoons fresh lemon juice

2 teaspoons lemon zest

2 teaspoons hot sauce

1 large garlic clove, minced

1 teaspoon dried oregano

1/2 teaspoon ground cumin

1/4 teaspoon fresh ground pepper

1/2 teaspoon salt

4 boneless skinless chicken breasts

For cucumber relish

1 English cucumber, halved lengthwise and thinly sliced ( about 4 cups)

1/2 teaspoon salt

1 cup diced tomato ( dice finely)

1/2 cup diced red onion ( diced finely)

6 tablespoons black olives ( chopped and pitted)

4 tablespoons fresh parsley ( coarsely chopped)

2 tablespoons fresh dill weed ( coarsely chopped)

1 garlic clove, minced

4 tablespoons extra virgin olive oil

4 teaspoons fresh lemon juice
Directions
To prepare chicken marinade, whisk all marinade ingredients except chicken breasts together in a bowl. Combine marinade with chicken breasts in a large zip-lock bag, seal and gently shake to evenly distribute marinade over chicken. Place in refrigerator and chill for 2 to 4 hours.

Meanwhile, prepare the cucumber relish. Lay cucumber slices in a sieve placed over a bowl and sprinkle with pinch of salt. Leave for about 30 to 40 minutes, or until cucumbers soften and their liquid begins to drain into the bowl. Stir occasionally.

Combine the tomato, onion, olives, parsley, dill, garlic, olive oil and lemon juice in a medium bowl. Stir in drained cucumbers, then cover the bowl and refrigerate for 1 to 2 hours.

Grease grill and preheat to medium-high. Remove chicken from zip-lock bag and discard marinade. Grill chicken breasts until cooked through, about 12 minutes. Remove chicken from grill, let rest for a few minutes and slice thinly on the diagonal. Lay chicken slices on top of each pita round and divide relish evenly among them. Garnish with a little extra yogurt and serve.