Puerto Rican Beans (Habichuelas Guisadas)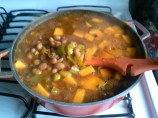 Photo by Joanne
Prep Time: 15 mins
Total Time: 3 hrs 15 mins
Servings: 6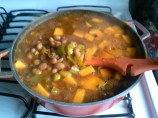 Photo by Joanne
About This Recipe
"These beans are so good. I've been experimenting with them for a long time and finally got them to taste like I remember growing up. *Note: You can use red kidney beans or pink beans if you don't like the roman beans. Additional Note: This is not a weeknight after work dish. It's time consuming but worth it. Tastes much better than canned beans."
Ingredients
1 (16 ounce) bags goya roman beans

1 cup cubed calabaza squash (optional) or 1 cup cubed russet potato (optional)

2 tablespoons tomato paste

1 teaspoon oregano

1 teaspoon cumin

1 teaspoon fresh ground black pepper

3 chicken bouillon cubes

3 (1 1/2 ounce) packages Sazon Goya seasoning ( with Cilantro and Tomato)

water

10 stuffed manzanilla olives

1/4 cup olive oil

1 cup sofrito sauce ( see my recipe# 502658, or see substitute)

The following ingredients can be substituted for the 1 cup of pre-made Sofrito

1 small onion, chopped

2 cubanelle peppers, chopped

6 garlic cloves ( mashed in a mortar and pestle or finely chopped)

1/4 cup fresh cilantro, chopped

Garnish

Note

you can add chopped ham, chorizo or bacon, to the beans if you'd like. if so brown the meat in the saute pan before you add the sofrito
Directions
Soak beans in enough water to cover overnight.

Empty Beans into colander and wash with cold water. Discard any split/broken beans or beans that look odd in color and/or size.

Place beans in large pot with cold water (add enough cold water to cover beans by about 3 inches).

Cook beans on high heat until they come up to a boil.

Reduce heat to Medium and partially cover with lid. Cook beans for 45 minutes to 1 hour or until beans start to soften stirring occasionally, and adding water as needed (some water will evaporate during cooking). Remember to always have beans covered with at about 3 inches of water.

Meanwhile, heat a saute pan on medium/low heat. Add olive oil, Sofrito (if using), or the substituted ingredients.

Saute for 3 minutes, then add tomato paste, Goya sazon, Chicken bouillon cubes, oregano, cumin, black pepper and Olives. Continue to cook for another 2 minutes. Remove from heat, set aside.

After beans have cooked for about and hour, add the chopped Calabaza or potato (optional) and sofrito with the seasonings to the beans. Mix well, add more water if needed. Cook for additional 1/2 hour on medium heat partially covered, then 1/2 hour on medium heat uncovered stirring occasionally.

When beans are done, garnish with 1/4 cup chopped cilantro.