Grilled Chicken Skewers With Hummus-Yogurt Dipping Sauce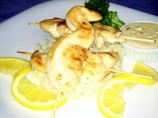 Photo by InspirationsFC
Prep Time: 10 mins
Total Time: 45 mins
Serves: 4, Yield: 2 skewers each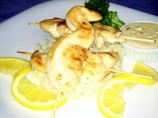 Photo by InspirationsFC
About This Recipe
"Now that summer has arrived I figured why not start grilling! So I came up this new dish that is quick and easy, but also healthy and delicious at the same time. The hummus-yogurt dip can also be used as a healthy dip for vegetables too!"
Ingredients
For the chicken skewers

1 lb boneless skinless chicken breast, cut in strips

extra virgin olive oil

salt and pepper, to taste

For the hummus-yogurt dipping sauce

1 cup hummus ( I used Sabra Luscious Lemon)

1/2 cup Greek yogurt ( I used Chobani Non-Fat Plain Greek Yogurt)

1 teaspoon salt

Simple Rice Pilaf Recipe

2 cups long-grain white rice

3 tablespoons unsalted butter

1 medium yellow onion, finely chopped

2 medium garlic cloves, finely chopped

2 cups chicken broth

1/4 cup water

1 1/4 teaspoons kosher salt, plus more as needed

1/4 cup finely chopped fresh Italian parsley
Directions
To make the grilled chicken skewers: Soak 8 (or more if needed) thin wooden skewers in water. Moisten the chicken with olive oil and season to taste. Thread the chicken fillets onto the skewers and grill on a hot stovetop cast-iron skillet, turning around to cook all sides.

For dipping sauce: mix hummus, yogurt and salt together in bowl.

To serve: Arrange the grilled chicken skewers on a platter or over bed of rice, alongside a bowl of the sauce, and lemon wedges on the side (optional).

For the rice pilaf:.

Place the rice in a fine-mesh strainer and rinse under cold water until the water runs clear; set aside.

Melt the butter in a medium saucepan over medium heat. Add the onion and garlic, season with salt, and cook, stirring occasionally, until softened, about 5 minutes.

Add the rinsed rice and cook, stirring occasionally, until the kernels crackle, about 2 minutes. Add the broth, water, and measured salt and stir to combine. Increase the heat to high and bring to a boil.

Reduce the heat to low, cover with a tight fitting lid, and simmer undisturbed until the rice is tender, about 15 minutes. Remove from the heat and let sit covered to steam, about 5 minutes. Fluff with a fork and stir in the parsley. Taste and season with additional salt as needed.