Creole Bread Pudding With Bourbon Sauce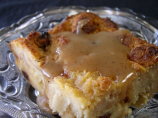 Photo by Bayhill
Prep Time: 30 mins
Total Time: 1 hr 15 mins
Servings: 10-12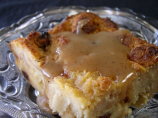 Photo by Bayhill
About This Recipe
"I found this recipe on the MyRecipes.com website. The intro states it originates from New Orleans chef Leah Chase, the queen of Creole cuisine (and from Dooky Chase's Restaurant in New Orleans, Louisiana). It is positively delicious. It's really quite good as a plain bread pudding (without the added sauce). But the Bourbon sauce is really the je ne sais quoi finish that makes this stand out far above all the others I've tried. For those who don't care for alcohol, the Bourbon Sauce is not really "boozey" (it's not detected at all, in fact) but is a creamy sauce with a slight caramel flair to it."
Ingredients
Bread Pudding

2 (12 ounce) cans evaporated milk

6 large eggs, lightly beaten

1 cup water

1 (16 ounce) day-old French bread, loaf cubed

1 (8 ounce) cans crushed pineapple, drained

1 large Red Delicious apple, unpeeled and grated

1 1/2 cups sugar

1 cup raisins

5 tablespoons vanilla extract

1/4 cup butter, cut into 1/2-inch cubes and softened

Bourbon Sauce

3 tablespoons butter

1 tablespoon all-purpose flour

1 cup whipping cream

1/2 cup sugar

2 tablespoons Bourbon

1 tablespoon vanilla extract

1 teaspoon ground nutmeg
Directions
Preheat oven to 350°F.

In a large mixing bowl, whisk together the evaporated milk, eggs and water until well blended. Add bread cubes, stirring to coat thoroughly. Stir in pineapple, grated apple, sugar, raisins and vanilla extract. Stir in melted butter, blending well.

Pour into a greased 13- x 9-inch baking dish. Bake at 350° for 35 to 45 minutes or until set and crust is golden. Remove from oven, and let stand 2 minutes.

For the Bourbon Sauce (which I prepared while the bread pudding was baking), melt butter in a small saucepan over medium-low heat; whisk in flour, and cook, whisking constantly, for 5 minutes. Stir in cream and sugar; cook, whisking constantly, for 3 minutes or until thickened. Stir in bourbon, vanilla, and nutmeg; cook, whisking constantly, 5 minutes or until thoroughly heated.

Spoon Bourbon Sauce over each serving of Creole Bread Pudding.