Brisket With Coriander, Black Pepper and Brown Sugar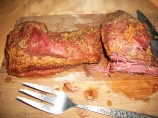 Photo by ElizabethKnicely
Prep Time: 30 mins
Total Time: 10 hrs 30 mins
Servings: 10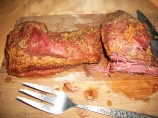 Photo by ElizabethKnicely
About This Recipe
"Recipe by chef Richard Blais. From his cookbook, "Try This At Home" and published in the USA Today magazine."
Ingredients
3 -4 lbs beef brisket ( from fatty end)

1/4 cup coriander seed, crushed in a mortar

2 tablespoons kosher salt

2 tablespoons ground black pepper

2 teaspoons smoked paprika

1 tablespoon cayenne pepper

1/4 cup vegetable oil

3/4 cup brown sugar ( packed)

1/3 cup yellow mustard
Directions
Rinse the brisket under cold water and pat dry. Season with the coriander, salt, pepper, paprika and cayenne.

Heat the oil in a roasting pan until just smoking. (Make sure area is well-ventilated). Sear the brisket until browned on all sides. Remove to platter, cover, and let stand about 20 minutes.

Meanwhile, arrange 2 long overlapping sheets of aluminum foil that are large enough to envelop the brisket on a work surface.

Preheat the oven to 300 deg F.

Mix the brown sugar and mustard in a small bowl to make a small paste. Rub the brisket with the paste and place on top of the foil sheets.

Tightly wrap the brisket in the foil so that no mustard paste can escape.

Place the brisket on a roasting rack set in a roasting pan and cook for 10 hours; when done, a paring knife should pierce the meat with ease. Let cool slightly.

Unwrap the brisket, slice and serve with mashed potatoes.

Leftover brisket can be wrapped tightly in plastic wrap and stored in the refrigerator for up to 1 week.

Note: I made this last weekend with beef ribs - just the rub, not the paste. I sectioned the ribs and rubbed with the spice mixture, then threw into the slow cooker for about ten hours on low. Very tender and flavorful. So, another option.