Spicy Korean Rice Cake With Cheese (Cheese Tteokbokki)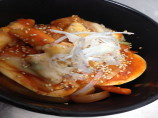 Photo by ducky007
Prep Time: 10 mins
Total Time: 25 mins
Servings: 4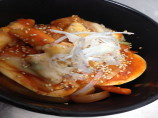 Photo by ducky007
About This Recipe
"Tteokbokki pronounced Toppoki is a popular Korean fast food. Rice cake is very filling and goes well with veggies and boiled egg (they are optional, you can add any veggies or meat you like) to the sauce. Melted cheese adds a gooey yumminess to this already delicious dish."
Ingredients
600 g Korean Rice Cakes

2 tofu ( abura age, sheets of fried tofu, sliced bite size)

1 small onion ( finely chopped)

1 leek ( finely chopped)

1 carrot ( rectangular slices)

3 hard-boiled eggs ( cut into half)

400 ml water ( you can adjust thickness of sauce)

1 tablespoon sesame seeds ( white)

50 g cheese ( shredded)

Gochujang sauce

4 tablespoons red chili paste ( gochujang miso)

1 tablespoon tomato ketchup

1 tablespoon honey

1 tablespoon sugar

2 teaspoons garlic ( minced)

1 teaspoon ground red chili pepper
Directions
1) Prepare boiled eggs, cut the veggies and abura-age.

2) In a bowl, mix gochujang sauce.

3) Boil the water in a frying pan. When it has boiled turn down to medium heat and add rice cake.

4) When rice cake is soft, simmer on a low heat and add all ingredients and combine with gochujang sauce.

5) When veggies are cooked through and sauce is thick, top with shredded cheese.

6) Sprinkle white sesame seed on top.