Mango Cardamom Zucchini Bread (Gluten Free)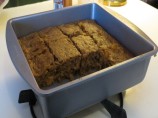 Photo by coconutty
Prep Time: 20 mins
Total Time: 55 mins
Serves: 12-16, Yield: 1.0 pan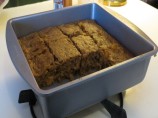 Photo by coconutty
About This Recipe
"I tweaked my recipe for Chocolate Zucchini Hazelnut Bread to come up with this. The orange extract and spices mask the olive oil flavor pretty well. This could also be baked in a 9 x 5 loaf pan for about 50 minutes but I haven't tried that yet. SUBSTITUTION: You can use one cup regular flour instead of the oat and soy flours."
Ingredients
2 large eggs, lightly beaten

1/2 cup extra virgin olive oil

6 tablespoons light brown sugar ( or more, see note at beginning of directions)

1 teaspoon orange extract

1 1/4-1 1/2 cups coarsely grated zucchini or 1 medium coarsely grated zucchini

3/4 cup organic oat flour

1/4 cup organic soy flour

1/2 teaspoon baking soda

1 pinch salt

1 teaspoon cardamom

1/2 teaspoon cinnamon

1 medium mango, ripe and fragrant
Directions
Smell and taste the mango to make sure it's fragrant and sweet. If the mango is not very sweet or sweet-and-sour, you may want to increase the sugar by a couple of tablespoons. (This part is a little tricky, because a very sweet mango will impart extra sweetness to the finished bread.).

Preheat oven to 350 degrees.

In a bowl combine and oil and eggs. Add sugar; mix.

Stir in orange extract and zucchini.

In a separate bowl, combine flours, baking soda, salt and spices; gradually stir into zucchini mixture to combine.

Peel mango and cut into ½ inch dice. Drain the mango pieces well by squeezing gently and measure out about ¾ cup to 1 cup. Stir diced mango into batter.

Add some additional sugar if desired, per the above note in the directions.

Spray an 8-inch square pan with cooking spray.

Pour batter into prepared pan.

Bake about 30-35 minutes or until a knife inserted into center comes out clean.