Egyptian Fig Roll Cookies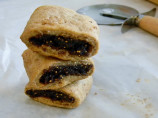 Photo by YummySmellsca
Prep Time: 4 hrs
Total Time: 4 hrs 15 mins
Serves: 24, Yield: 24 cookies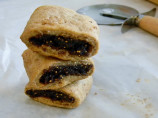 Photo by YummySmellsca
About This Recipe
"You may know these tender, not too sweet cookies by their name Fig Newtons, but in reality the recipe is of Egyptian design. This version combines the traditional flavours of North Africa with the whole grain cookies of today."
Ingredients
8 ounces dried figs ( I used a combination of Black Mission and Calimyrna)

1 tablespoon honey ( I like Manuka)

1/4 cup water

1 pinch nutmeg

1 pinch cardamom

1 pinch cinnamon

2 ounces flour

3 ounces spelt flour

1/2 teaspoon cinnamon

1 pinch baking soda

1 pinch salt

1 ounce salted butter, room temperature

2 ounces non-hydrogenated shortening

1 ounce brown sugar

2 egg whites

1/2 tablespoon vanilla extract

1/2 teaspoon orange extract
Directions
Filling:.

Mix the ingredients in a small saucepan and bring up to a gentle simmer.

Cook for 30 minutes, until all the liquid is absorbed and figs begin to turn into a "paste".

Transfer to a food processor and purée a thick consistency.

Cool completely, then transfer to a plastic zip-top bag and set aside. (Note: you can make this up to 3 days in advance).

Dough:.

Whisk together the flours, baking soda and salt. Set aside.

Cream the butter, shortening, sugar, egg whites and extracts in a bowl.

Add the dry ingredients, beating to combine into a dough.

Wrap well in plastic and chill at least one hour.

Assembly:.

Preheat the oven to 325 and line a baking sheet.

Roll the dough into a thin layer (less than 1/4") on a floured surface or between sheets of waxed paper.

Slice strips about 3 1/4" wide, and pipe the filling along the centre of each.

Fold the sides over the filling, lightly pressing down to seal (add a brushing of water if necessary to stick).

Slice into "two bite" sized pieces (about 1") and place on the lined sheet.

Bake, one sheet at a time, for 12 minutes. Keep unbaked cookies in the fridge between bakes (or freeze for later baking).