Homemade General Tso's Chicken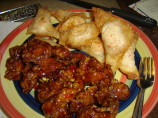 Photo by heartshapedpan
Prep Time: 1 hr
Total Time: 1 hr 20 mins
Serves: 2, Yield: 4 cups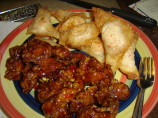 Photo by heartshapedpan
About This Recipe
"Give the restaurant menu a break today, and make my version of General Tso's chicken at home. Save money and eat good!!!"
Ingredients
453.59 g boneless skinless chicken thighs, cut into 1 inch pieces

2 garlic cloves, minced fine

14.78 ml fresh ginger, minced

4.92 ml light soy sauce

4.92 ml toasted sesame oil

14.79 ml sugar

4.92 ml black pepper

236.59 ml all-purpose flour

44.37 ml cornstarch

2 eggs, beaten

3 garlic cloves, minced

9.85 ml fresh ginger, minced

29.58 ml sambal oelek chili paste ( garlic chili sauce)

29.58 ml soy sauce

9.85 ml fish sauce

4.92 ml toasted sesame oil

9.85-14.78 ml sugar ( to taste)

9.85 ml seasoned rice wine vinegar

283.49 g sweet chili sauce

473.18 ml vegetable oil ( for frying)
Directions
cut chicken into 1 inch pieces and place into an air tight container.

mince garlic, ginger, and add to chicken followed by soy sauce, sesame oil, the 1bsp. sugar, and black pepper and marinate for at least 1 hour or up to 24 hours.

combine flour and cornstarch into a resealable bag and shake well.

beat eggs into a separate dish.

in a medium bowl mix remaining ingredients of garlic, ginger,sambal, sugar, fish sauce, soy sauce, vinegar, and sweet chili sauce.

heat oil in skillet to about 350 degrees.

dip each piece of chicken into egg allowing it to drip off.

dredge each piece in flour and cornstarch mixture shaking off excess.

drop into hot oil and fry until golden brown.

in a separate pan add sauce mixture and heat slowly.

as chicken pieces are done frying add to sauce and toss gently.

continue until all pieces are fried and sauced.

enjoy.