Musaka'a (Palestinian Eggplant Baked With Tomatoes and Chickpeas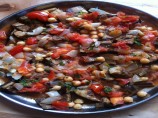 Photo by UmmBinat
Prep Time: 10 mins
Total Time: 1 hr 10 mins
Serves: 4, Yield: 4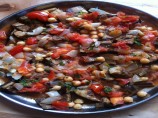 Photo by UmmBinat
About This Recipe
"A delicious vegitarian dish. "Musaqa'a (moo-sa-KAH) is similar to French ratatouille. Though the pronunciation is the same, and both contain eggplant, this vegetarian dish is not the same as Greek moussaka. Also spelled musakka'a or musaqaa." Modified from a recipe found on, whats4eats.com"
Ingredients
1 large organic eggplant, cubed

3 tablespoons and 1/4 cup organic light tasting extra virgin olive oil, separated

sea salt & freshly ground black pepper, to taste

1 organic onion, chopped

3 organic fresh tomatoes, chopped ( not canned)

1 1/2 cups organic chickpeas, cooked and rinsed ( or canned)

1 cup water

2 tablespoons organic tomato paste

1/3 cup organic parsley, chopped fine
Directions
Preheat oven to 400°F.

In a large bowl, toss the organic eggplant together with 3 tablespoons of the organic light tasting extra virgin olive oil, sea salt and freshly ground black pepper, to taste.

Spread in a single layer in a roasting pan and roast in the oven for 15 to 20 minutes, or until lightly browned and softened.

While the eggplant is roasting, heat the 1/4 cup olive oil in a large skillet over medium heat. Add the organic onions and sauté until translucent.

Add the organic tomatoes, chickpeas, water, tomato paste & sea salt. Bring to a boil and stir to heat through, 3 to 4 minutes. Adjust seasoning to taste.

Place the eggplant in a casserole dish and pour the tomato-onion mixture over it. Place in the oven and bake for 40 minutes, or until bubbling through. Remove and serve hot or at room temperature.

Enjoy!