Irish Soda Bread (Co.Cavan)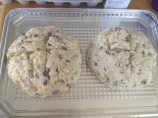 Photo by Carb Lover
Prep Time: 15 mins
Total Time: 50 mins
Serves: 8, Yield: 1 rounded loaf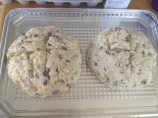 Photo by Carb Lover
About This Recipe
"This recipe was passed down to me by my Dad's Aunt. I have added a tweak that does not effect the original recipe at all. I find that it's not to dry as some soda breads can be. Has a nice slightly sweet flavor to it, but not too much that it tastes like a cake, it's a bread. I love this recipe and I admit I don't make it nearly enough. Enjoy"
Ingredients
2 1/4 cups flour

1 1/4 teaspoons baking powder

1/2 teaspoon baking soda

1/2 teaspoon salt

3 1/2 tablespoons sugar ( plus what falls into bowl LOL)

1/4 cup butter, I use butter flavor crisco

3/4-1 cup raisins ( soaked in warm water until plumped. My tweak is to use Jameson's, just a little bit more than to cov)

2 teaspoons caraway seeds

1 egg

2/3 cup buttermilk
Directions
In a large bowl, sift together the dry ingredients.

Cut the butter or Crisco into chunks and mix into the dry with a pastry cutter until well mixed.

Then add the raisins and caraway seeds.

In a smaller bowl mix the egg with the buttermilk until blended.

Pour the wet into the dry and mix together when it starts to form a ball then go in to the bowl with your hands and mix the rest together until all mixed (dough is sticky) then form a bla and place it on a greased cookie sheet. Let sit for 10 minutes (it rises) then cut an X across the top and brush with milk. Bake for 35 minutes or until golden brown. I find the more loaves I bake you need to lessen the bake time , my first 2 took the 35 minutes the last 2 only 25

I recommend letting it cool slightly, then while still warm enjoy a slice with a lot of butter and huge cup of tea. Some clotted cream and jam would be nice too.