Blueberry Buttermilk Pancakes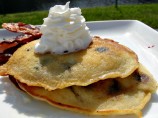 Photo by diner524
Prep Time: 5 mins
Total Time: 15 mins
Serves: 6, Yield: 24 6 inch pancakes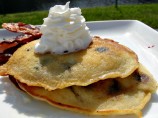 Photo by diner524
About This Recipe
"I'm vacationing on Cape Cod and I'm screaming for blueberry pancakes! I can't have one without the other. Lucky for me, my beautiful sister-in-law Sophie loves to cook, bake and lavish us with a beautiful breakfast spread every morning. Her buttermilk pancakes are The BEST. She says the secret is to use real buttermilk and not regular milk. This is her secret to creating the lightest and fluffiest pancakes. Another secret is to place the blueberries in each individual pancake before you flip them. This keeps the blueberries evenly distributed so that you get a good handful in every pancake and a warm pop of sweet blueberry in every bite. A hint of vanilla brings all the flavors together. Serve with really good pure maple syrup and it doesn't get any more decadent than this!"
Ingredients
3 cups all-purpose flour

3 tablespoons sugar

3 teaspoons baking powder

1 1/2 teaspoons baking soda

3/4 teaspoon salt

3 cups buttermilk

1/2 teaspoon vanilla

1/2 cup milk

3 large eggs

1/3 cup butter, melted
Directions
In a large bowl, combine flour, sugar, baking powder, baking soda, and salt. In a separate bowl, beat together buttermilk, milk, eggs, melted butter, and vanilla. Keep the two mixtures separate until you are ready to cook.

Heat a lightly oiled griddle or frying pan over medium high heat. You can flick water across the surface and if it beads up and sizzles, it's ready!

Pour the wet mixture into the dry mixture, using a wooden spoon or fork to blend. Stir until it's just blended together. Do not over stir! Pour or scoop the batter onto the griddle, using approximately 1/4 cup for each pancake. Sprinkle a generous handful of blueberries on each pancake. Brown on both sides and serve hot with maple syrup.