Spinach Cheese Scramble, W/Soy Bacon, Potatoes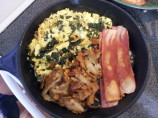 Photo by bamedeo
Prep Time: 15 mins
Total Time: 30 mins
Servings: 4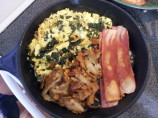 Photo by bamedeo
About This Recipe
"Kosher, meat-free, gluten-free hearty breakfast"
Ingredients
1 medium potato, washed, with skin baked partially

1 medium plantain, very ripe uncooked, peeled

1 cup frozen spinach, cooked

2 tablespoons coconut oil

1 teaspoon garlic salt

1 teaspoon hot sauce

1 ounce light cheese, Kosher

8 slices imitation bacon, Morningstar farms

1 cup egg substitute, Egg Beaters
Directions
Melt coconut oil in nonstick frying pan add sliced plantain and fry until brown, turn over and press down until each is flat and cook until brown. Drain on paper towel and set aside.

Fry soy bacon next to the plantain at the same time, drain on paper towel it should be crisp.

Using same pan/oil drop in sliced potatoes and fry until brown and crunchy. Sprinkle with garlic salt save on paper towel. (My toaster oven has a warmer on top so I place these items in there until the rest of the food is cooked.).

Pour egg into pan and cook half way. Add spinach and cheese. Chop up and stir until eggs are done. Serve the eggs fluffy, take the scrapings from the bottom of the pan which will be brown and crunchy and serve it over the potatoes.

Serve all together - use hot sauce to taste.