Baked Haddock With Crumb Topping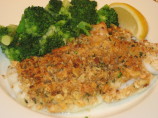 Photo by Everything Tasty Kitchen
Prep Time: 20 mins
Total Time: 35 mins
Servings: 4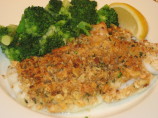 Photo by Everything Tasty Kitchen
About This Recipe
"This is a traditional New England classic made with the perfect combination of fresh bread crumbs and Ritz crackers for the topping. A little bit of Parmesan adds a great flavor and you wouldn't even be able to guess that it's there........it just doesn't get any better than this. The Ritz keep the topping crunchy and the fish is sweet, savory and oh, soooo delicious. This recipe is the secret combination of how it's done in the restaurants.....In New England that is. Enjoy!"
Ingredients
907.18 g haddock or 907.18 g cod fish fillets

32 Ritz crackers, crushed ( 32 crackers in a sleeve)

59.14 ml parmesan cheese, grated

29.58 ml garlic powder

59.14 ml chopped fresh flat leaf parsley

44.37 ml extra virgin olive oil

44.37 ml butter, drawn
Directions
Preheat the oven to 400 degrees.

Mix all ingredients together in a bowl except for the butter and fish. Use a food processor or your hands to make an evenly consistent bowl of crumbs.

Place the fish in a cooking dish(es), cover with a good handful of crumbs and sprinkle with drawn butter.

Place two tablespoons of water around the bottom of the fish.

Bake for 10 to 14 minutes, until the breadcrumbs become brown. Serve immediately with a lemon wedge and your favorite vegetable.