Creamy Ranch Shrimp Bisque #RSC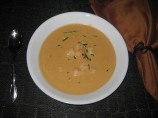 Photo by tambocos
Prep Time: 10 mins
Total Time: 1 hr
Servings: 6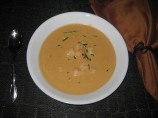 Photo by tambocos
About This Recipe
"Ready, Set, Cook! Hidden Valley Contest Entry. A different twist on the classic Shrimp Bisque."
Ingredients
1 1/2 lbs medium shrimp, shells reserved

3 tablespoons olive oil

1/2 cup butter

1 large shallot, minced

3 stalks celery, cut into chunks

1 cup baby carrots

1/4 cup chopped parsley

1/2 teaspoon dried thyme

2 bay leaves

2 slices lemon zest

2 tablespoons tomato paste

1/4 teaspoon cayenne pepper

1/2 sherry wine

3 tablespoons all-purpose flour

1 1/2 cups seafood stock

2 cups heavy cream

2 cups milk

1 cup Hidden Valley® Original Ranch® Dressing

kosher salt

fresh ground pepper, to taste

chives, for garnish
Directions
Heat olive oil in a large pot over medium heat. Add butter and melt. Add the shrimp shells, shallots, celery, carrots, parsley, thyme, bay leaves, lemon zest, tomato paste and cayenne. Cook, stirring every occasionally, until the shells are red and the vegetables are tender, about 10 to 12 minutes.

Remove from heat and add sherry. Ignite the sherry with a wand lighter and cook until the flame subsides. Return the pot to the heat, sprinkle in flour and stir. Cook for another 2 minutes. Add seafood stock to deglaze. Stir browned pieces from the bottom of the pot. Add cream, milk, and HIDDEN VALLEY RANCH and bring to a boil. Turn the heat to low and simmer until reduced and thickened, 40 to 45 minutes. Strain into a clean pot and season with salt and pepper. Bring bisque to a simmer.

Chop shrimp into small pieces and add to bisque. Cook about 3 minutes until shrimp are done. Taste for seasoning and garnish with HIDDEN VALLEY RANCH DRESSING and chives.