Hidden Surprise-Lemony Prawn Pizza #RSC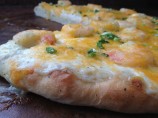 Photo by LaurieFigone
Prep Time: 30 mins
Total Time: 48 mins
Serves: 4-6, Yield: 1.0 pizza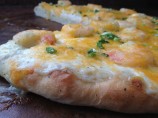 Photo by LaurieFigone
About This Recipe
""Ready, set, cook! Hidden Valley Contest Entry" The hidden surprise is in the pizza crust…One bite and your taste buds will go "WOW"…Hidden Valley and lemon pair wonderfully together to bring my prawn pizza to life!!"
Ingredients
Dough

3 cups all-purpose flour

2 teaspoons fast rising yeast

1 teaspoon sugar

1 teaspoon salt

1 tablespoon Hidden Valley Original Ranch Dips Mix

1/4 cup extra virgin olive oil

1 cup warm water ( 120F to 130F)

Pizza Topping

3/4 cup Hidden Valley® Original Ranch® Dressing

1 teaspoon lemon zest

2 dozen shelled cooked shrimp ( 31-40 count)

1 teaspoon extra virgin olive oil

1/4 cup dry parmesan cheese

1 teaspoon Hidden Valley Original Ranch Dips Mix

2 cups shredded colby-monterey jack cheese

1 tablespoon extra virgin olive oil

1 teaspoon fresh lemon juice

2 tablespoons fresh chives
Directions
1. In a large mixing bowl, stir to combine: 2 cups flour, yeast, sugar, salt and dip mix. Add EVOO and water; stir with a wooden spoon until mixture comes together. Knead in remaining flour. Put dough into a clean oiled bowl and cover. Let rest 20 minutes in a warm spot.

2. While dough is resting: In a small mixing bowl; mix together Ranch Dressing and lemon zest. Set aside.

3. Put prawns into a large zip-lock bag. Add 1 teaspoons EVOO and toss with prawns. Mix together Parmesan cheese and 1 teaspoons dip mix and add to bag of prawns; tossing to coat prawns well. Set aside.

4. When dough has rested 20minutes: Preheat oven to 400'. Punch dough down and shape into a 13 inch circle on a pizza stone. Cover and let rest 10 minutes.

5. Pre-cook pizza dough for 8-10 minutes. Remove from oven and spread with Lemon Zesty Ranch Dressing. Top with parmesan coated prawns; spacing them evenly on top of pizza. Sprinkle with shredded cheese. Mix together 1 tablespoons EVOO and 1 teaspoons lemon juice and drizzle over the shredded cheese.

6. Bake at 400' for 7-9 minutes. When pizza comes out of the oven; sprinkle with chives.

7. Mangia!