Batata Harra With Ras El Hanout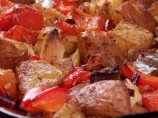 Photo by Lavender Lynn
Prep Time: 30 mins
Total Time: 55 mins
Servings: 6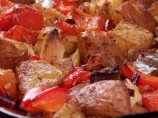 Photo by Lavender Lynn
About This Recipe
"This recipe says "by Martin". Here's what Martin says: "What could possibly be better than good old British chips? Try this. It makes the humble chip seem dowdy and pale. Maybe it's over familiarity that's making me cheat on our national dish. Batata Harra is like the dashing foreign exchange student who turns up at school, blows smoke in your face and instantly gets off with the girl you've been lusting after since the summer before last. Chips can't be expected to compete with that. As if it possibly needed to get any more exotic and unchiplike, this recipe adds ras el hanout – a random, fragrant Moroccan spice mix – to the equation. The ras el hanout I used was the genuine article, kindly sourced from Marrakech by Kim, but unless you're off to Morocco on holiday soon you might have to settle for the supermarket version. It'll still be nice." I think that I like Martin. It's out of: Kittsy's Cookbook"
Ingredients
1 kg potatoes, peeled, cut into 2cm chunks or 1 1/4 lbs potatoes, cut into 3/4 inch chunks

2 red bell peppers, cut in 2cm pieces ( 3/4 inch)

12 garlic cloves, peeled

20 g coriander, chopped coarsely or 2/3 ounce coriander

2 teaspoons ras el hanout spice mix

3 tablespoons olive oil

2 teaspoons flaked sea salt

2 teaspoons crushed dried red chilies

1 lemon, juice and zest of
Directions
Plunge the potatoes in a pan of boiling water for five minutes. Drain and leave to cool.

Mix the oil, salt and ras el hanout in a large bowl. Toss the potatoes in the mixture and tip it all out into a baking dish or tray. Stick this in the oven at 220C for 15 minutes.

Remove from the oven and add the peppers, garlic and chilli flakes. Mix it up a bit and return to the oven for 25-30 minutes, until the potatoes are nicely browned and the peppers are starting to blacken around the edges.

Finally, tip everything back into the bowl you used for the oil. Add the coriander, lemon juice and zest, stir it all through and serve it warm as a side dish, a starter, an alternative to falafels, a bowl of finger food to share during the football….