Baked Vegetarian Chimichangas (Warm or Cold)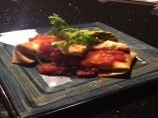 Photo by Chef #480382
Prep Time: 10 mins
Total Time: 25 mins
Servings: 8-10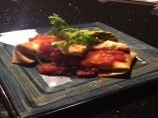 Photo by Chef #480382
About This Recipe
"These are a deliciously healthy, filling meal, and good for both everyday eating and when your vegetarian guests come over for dinner! My non-vegetarian husband doesn't even miss the meat when I fix these. This is a *big* batch, so plan on leftovers. :) Good for picnics & potlucks, too... see note below."
Ingredients
1 cup chopped onion

6 garlic cloves, minced

1 cup roughly-chopped mushroom (optional)

2 teaspoons olive oil

1 (7 ounce) cans chopped green chilies

1 (16 ounce) cans vegetarian refried beans

1 1/2 cups of your favorite salsa

2 cups cooked brown rice

1 (16 ounce) cans regular black beans

1 (16 ounce) cans black soybeans

1 ripe avocado, pitted, peeled, and cubed (optional)

1/2 teaspoon salt, to taste

1 -2 teaspoon chili powder, to taste

2 teaspoons powdered cumin

3 tablespoons sour cream ( or non-dairy equivalent)

1 1/2 cups grated cheddar cheese or 1 1/2 cups soy cheese

grated cheddar cheese (to garnish) or soy cheese ( to garnish)

flour tortilla ( large burrito size)
Directions
Sauté the chopped onion, garlic, and mushrooms (if using) in olive oil until onion is soft.

Add the chopped chilies, flatten mixture in bottom of pan and sauté, not stirring, until the onions begin to caramelize a little, then remove from heat.

In a large bowl, mix remaining ingredients except tortillas.

To put together the chimichangas, place about 3/4 to 1 cup of filling on a tortilla, fold the bottom over the filling, fold the sides in, then carefully fold/flip it over to close; repeat until you have as many chimichangas as you want to bake at one time.

Place the chimichangas on a cookie sheet, brush each one with 1/2 teaspoon of olive oil, and bake at 400 degrees F for 15 minutes.

Sprinkle each with grated cheddar, serve with extra sour cream, guacamole, and salsa, and enjoy!

Makes 8 to 10 large chimichangas, depending on the amount of filling you put in each.

(Black soybeans are good for those eating low carb because they are lower in carbohydrates and high in fiber. Information on black soybeans available at the Eden Foods website.).

Note: To make these for a picnic or potluck, instead of baking them as I would at home, I make the filling and put it in a container, then bring tortillas and toppings and set them all out so folks can make their own sort of burritos. It's very popular! :).