Poor Man's Lobster Thermidore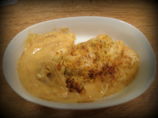 Photo by Catnip46
Prep Time: 0 mins
Total Time: 30 mins
Servings: 4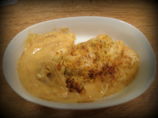 Photo by Catnip46
About This Recipe
"This recipe has been sitting in my "To Try" recipe file for about a year. I finally got around to trying it and was so glad I didn't have to share this meal with anyone but myself. Sooo Good! I got this recipe from Cooks.com unfortunately the person who submitted this forgot to include the directions. So I winged it. Sure hope you enjoy this as much as I did. You can use any kind of white fish. I used catfish fillets and it was excellent. I did alter the recipe for my taste. Food.com does not recognize the phrase cooking wine but that is what I use."
Ingredients
1 lb fresh or frozen cod fish fillet

1 small onion, sliced and then cut into quarters

1 (10 ounce) cans cream of shrimp soup

1/4 cup milk

1/4 cup white wine

1/2 cup shredded mozzarella cheese

1 tablespoon dried parsley or 2 tablespoons snipped parsley

1/2 cup soft breadcrumbs

2 tablespoons fresh grated parmesan cheese

1/2 teaspoon paprika ( do not use smoked paprika)
Directions
Fry fish, when done put in a casserole dish.

Saute onions in same pan.

Add wine with onions and cook for 30 seconds scrapping bottom of pan often.

Add soup and milk. Cook for a minute or two stirring all the time.

Pour soup mixture over fish in casserole. Sprinkle with bread crumbs then both of the cheeses and then sprinkle with paprika.

Bake in 425 oven for 10-15 minutes until brown and bubbly. All ovens are different, please keep an eye on it so it does not burn.