Tink's Cider Beef Stew With Fluffy Dumplings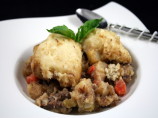 Photo by **Tinkerbell**
Prep Time: 30 mins
Total Time: 2 hrs 30 mins
Servings: 6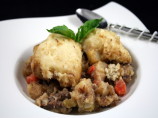 Photo by **Tinkerbell**
About This Recipe
"I used to use a basic cider stew recipe, but one day about 25 years ago, I went to make it and found I was out of apple cider. I did have a packet of spiced cider mix, from a holiday gift basket, though. My family loved it, so I experimented further with the recipe. I've been buying the spiced cider packets ever since, just for stew. I find it year round, usually on the top shelf of the unrefrigerated juice aisle, at the grocery store. We've tried many other good stew recipes over the years, but this is the one, with its fluffy dumplings, that my family calls comfort food. The dumplings are optional, and I still use the recipe found in my first Betty Crocker cookbook."
Ingredients
For Stew

680.38 g beef stew meat, cut into 1-inch cubes

29.58 ml flour

salt and pepper ( to taste)

14.79-29.58 ml vegetable oil

1 (21.26 g) packet spiced apple cider

709.77 ml water

737.08 g beef stock ( or broth)

29.58 ml apple cider vinegar

4.92 ml salt

2.46 ml pepper

2.46 ml dried thyme

1 large potato, peeled and cubed

12 baby carrots, cut into 1/2-inch pieces

2 stalk celery, cut into 1/2-inch pieces

1 medium onion, cut into 1/2-inch pieces

59.14 ml flour

118.29 ml cold water

For Fluffy Dumplings
Directions
In a large resealable bag, shake together stew meat, flour, salt and pepper. Heat vegetable oil in large Dutch oven, and brown beef in oil. Drain, if needed.

Add spiced cider packet, water, beef stock, apple cider vinegar, salt, pepper, and thyme. Bring to a boil, reduce heat, cover and simmer 1-1/4 hours.

Add potato, carrots, celery, and onion. Return to a boil, then reduce, cover, and simmer 30 minutes, or until meat and veggies are tender.

Combine flour and cold water. (I like to shake it in a jar with a sealed lid.) Raise heat to high; slowly pour flour and water into stew, while stirring constantly. As the mixture heats it will thicken into gravy. Thicken as much or as little as you like. You may or may not use all of the flour/water mixture.

Make dumplings: Combine flour, baking powder and salt in a small bowl. Using a pastry blender or two knives, cut the shortening into the flour mixture until it resembles fine crumbs.

Stir in milk, and drop 10 spoonfuls of dough onto hot meat or vegetables (not directly onto hot liquid).

Cook uncovered for 10 minutes.

Cover and cook 10 minutes longer.