Lobster and Shrimp Ranch Frittata #RSC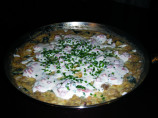 Photo by Lamierus
Prep Time: 30 mins
Total Time: 50 mins
Serves: 6, Yield: 1 Frittata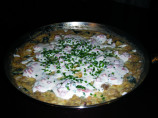 Photo by Lamierus
About This Recipe
"Ready, Set, Cook! Hidden Valley Contest Entry. A delicious lobster, shrimp, spinach, hash brown, swiss, parmesian ranch frittata, topped with a zesty tomato chive ranch sauce."
Ingredients
Sauce

1/2 cup sour cream

1/3 cup milk

1 small tomatoes, diced

0.5 (1 ounce) packet Hidden Valley Original Ranch Seasoning Mix

2 tablespoons fresh chives ( chopped)

1/2 teaspoon lemon zest

1/4 teaspoon garlic powder

Frittata

8 jumbo eggs ( Grade A)

1 cup raw spinach ( rough cut)

1 (3/4 lb) whole lobster ( cooked, use meat from tail, front legs, and claws)

1/2 lb raw shrimp ( peeled and deveined, chopped)

1/2 cup swiss cheese, shredded

1/4 cup half-and-half cream

1/4 cup milk

3 -4 red potatoes, shredded ( avg size)

0.5 (1 ounce) packet Hidden Valley Original Ranch Seasoning Mix

2 fresh garlic cloves, minced

2 teaspoons sumac

1 teaspoon salt

1/2 teaspoon lemon zest

1/2 teaspoon pepper

2 tablespoons unsalted butter

1 tablespoon coconut oil

Topping

1/4 lb parmesan cheese ( Sartori Sarvecchio, finely shredded)

1 tablespoon chives ( finely chopped)
Directions
First prepare sauce by wisking milk into sour cream until smooth. Wisk in one half of Hidden Valley Ranch Mix, chives, lemon zest, and garlic powder. Stir in tomato. Set aside in refrigerator to use later.

Next prepare egg mixture for frittata by beating eggs until smooth. Wisk in Half & Half, milk, the other half of Hidden Valley Ranch Mix, sumac, lemon zest, salt, and pepper. Set aside.

In a 10" oven safe skillet melt 2 Tbsp butter over medium heat. Lightly sautee red potatos over medium high heat until lightly browned. If necessary add more butter or coconut oil to prevent sticking. Add shrimp and minced garlic to pan, and sautee until shrimp begins to turn pink. Salt lightly to taste. Then add Spinach to pan in order to wilt for about a minute or so. Next add egg mixture to pan while stirring. Stir in swiss and lobster. Keep stirring every minute or so to keep circulating raw egg to bottom of pan as it begins to set up. When mixture is still moist but setting up at the top, add layer of Parmesan to the top and pop under the broiler on high for 4 minutes (with the rack on the 2nd from highest position in oven) turning a quarter turn every minute. Cheese should be nicely bubbling and lightly browned on top.

Pull from the oven and let cool for about 10 minute Sprinkle sauce on top (leaving the rest in a small bowl to serve with the Frittata). Sprinkle chives on top, and serve.