Mushroom Fried Rice (Teppanyaki Style)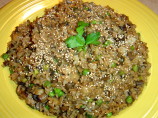 Photo by Sue Lau
Prep Time: 15 mins
Total Time: 30 mins
Servings: 6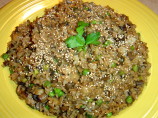 Photo by Sue Lau
About This Recipe
"This will go wonderfully with something like grilled steak or teriyaki chicken, or just on its own as a vegetarian main dish."
Ingredients
1 cup cooked rice ( long grain, white, jasmine, brown, etc.)

2 tablespoons coconut oil

1/2 cup minced red onion

12 ounces button mushrooms, chopped

4 -5 garlic cloves, minced

2 tablespoons minced fresh ginger

8 ounces water chestnuts, chopped

2 -4 tablespoons Japanese soy sauce

1 tablespoon brown sugar

1 1/2 teaspoons dark sesame oil

5 scallions, sliced

1/2 cup frozen peas

1 tablespoon toasted sesame seeds

salt

black pepper
Directions
In a small bowl, stir together the soy sauce, brown sugar, and sesame oil; keep nearby.

In a large skillet or on a griddle, cook onion and mushroom in coconut oil until the mushrooms release their water and that evaporates.

Stir in the garlic, ginger, and cook until fragrant.

Add the water chestnuts, scallions and peas, seasoning well with salt and pepper.

Add the rice and cook until rice is lightly golden in some spots, then add sauce, stirring well.

Stir in sesame seeds just before serving, or use them as a garnish.