Easy Vegetable Soup / Crock Pot (Or Not!)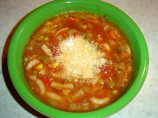 Photo by Sue Lau
Prep Time: 20 mins
Total Time: 2 hrs
Servings: 6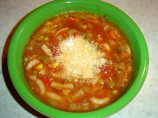 Photo by Sue Lau
About This Recipe
"You can easily make this soup on the stovetop, or in a crockpot. Adjsut the vegetables to your liking."
Ingredients
473.18 ml chopped well-rinsed leeks, white and light green parts only ( discard dark green tops)

473.18 ml celery, diced

29.58 ml olive oil

3 garlic cloves, minced

4.92 ml dried thyme or 14.79 ml fresh thyme, stripped from stem

2 fresh bay leaves

1892.0 ml vegetable stock (I used one of each) or 1892.0 ml beef stock ( I used one of each)

946.0 ml spaghetti sauce

591.47 ml diced turnips

473.18 ml diced carrots

473.18 ml sliced fresh green beans

salt or salt substitute

black pepper

cayenne pepper sauce (optional)

118.29 ml red bell pepper, seeded and diced

158.51 ml frozen corn

78.07 ml frozen peas

453.59 g fully cooked meatballs (optional) or 453.59 g chopped cooked beef (optional) or 453.59 g other cooked meat (optional)

236.59 ml uncooked macaroni noodles

59.14 ml grated parmesan cheese (optional)
Directions
Cooks Note: Rinse the leek well in a basin of water to remove any possible grit.

Crock Pot Cooking Directions: Add all ingredients (except macaroni and Parmesan cheese) to crock pot and stir. Cover and cook on low for 8-10 hours. At end of cooking time, add macaroni to crock pot and cook on high until noodles are tender, or just add hot cooked noodles at the end of cooking (along with Parmesan cheese).

Saute leek and celery in olive oil in a soup pot or dutch oven until soft, 10 minutes or so.

Add the garlic and seasonings and stir until very fragrant.

Stir in the stock and spaghetti sauce and heat to a boil.

Add turnips, carrots and green beans, reducing the heat to a simmer. Season the stock with salt, pepper and hot sauce (to your liking) at this time. Cook covered for one hour, stirring occasionally.

Stir in the frozen corn, frozen peas, and red bell pepper. If you want to add frozen meatballs or chopped cook beef, etc., do it now. Simmer, covered, for about 15 minutes. If you do add meat, you may want to add some more water or stock so the soup doesn't get too thick.

Stir in the uncooked macaroni and cook until tender, 7-12 minutes, depending on what kind of macaroni it is (use package directions for cooking time).

Adjust your seasonings one last time. Add water if you want the soup more brothy.

Serve with a sprinkling of grated parmesan cheese on top, if desired.