Chorizo, Chickpea & Banana Stew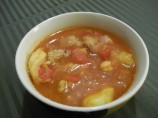 Photo by rpgaymer
Prep Time: 5 mins
Total Time: 45 mins
Servings: 4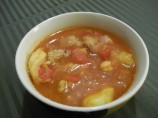 Photo by rpgaymer
About This Recipe
"This is a unique-tasting stew that's packed with flavor. You can use plantains instead of bananas, but they need to be cooked a bit longer. I make my own lean turkey chorizo for this, but any chorizo will do. If you're unconcerned about calories, serve this with some additional fried bananas - yum!"
Ingredients
1 tablespoon peanut oil

1 onion, chopped

2 garlic cloves, chopped

1 1/2 tablespoons ginger, grated

3/4 lb chorizo sausage, casings removed and crumbled

1 (15 ounce) cans diced tomatoes, undrained

1 pint beef stock or 1 pint chicken stock

3 bananas, peeled and sliced

1 (15 ounce) cans chickpeas, rinsed and drained

1 teaspoon salt

1/4 teaspoon black pepper

cilantro, to garnish
Directions
Heat the oil in a large pan over medium-high heat. Stir in the onion, garlic and ginger and fry for 2-3 minutes. Add the chorizo and brown the meat for a further 2-3 minutes. Drain off any excess fat if desired.

Add the tomatoes and stock, stir, and bring to a boil. Lower heat, cover, and simmer gently for 30 minutes.

Add the chickpeas and bananas to the stew and cook for a further 5 minutes, or until the bananas are just starting to fall apart. Season with a salt & pepper and serve garnished with cilantro.