Gluten-Free Gingerbread Cake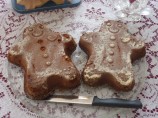 Photo by David J Rust
Prep Time: 15 mins
Total Time: 1 hr 15 mins
Serves: 16, Yield: 2 cakes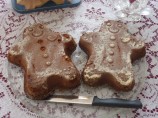 Photo by David J Rust
About This Recipe
"A family tradition of ours is to make a gingerbread cake for Christmas morning shaped like a gingerbread man. In the past, we've decorated him with icing and even had a single, big cake pan (which, in recent years, got damaged). We now use this updated, gluten-free recipe in two, small pans which are, roughly, the same volume as 9" cake pans."
Ingredients
1/2 cup dark brown sugar

1/8 cup butter, softened

1 cup unsulphured molasses

2 cups gluten-free flour

1/2 teaspoon baking soda

1/4 teaspoon salt

1 1/2 teaspoons ginger powder

1/2 teaspoon ground cinnamon

1/8 teaspoon ground nutmeg

1/8 teaspoon ground cloves

1/3 cup buttermilk

1/3 cup 2% low-fat milk

1 large egg
Directions
In a mixing bowl, cream the softened butter and the brown sugar, together. Once it is lighter and both ingredients are fully incorporated into one another, set aside.

Add the remaining ingredients and slowly mix to combine. You should get a sticky, thick batter.

Pour into two oiled-and-floured (with gluten-free flour) 9" baking pans.

Place into a heated 350 degree (Fahrenheit) oven for about an hour. Test the cakes with toothpicks starting around 45 minutes. When the toothpicks can be inserted into the center of a cake and removed with no sticky residue on the pick, it is done.

De-pan and turn out to cool.

Serve with whipped cream.