Todd Wilbur's Cheated Domino's Pizza Sauce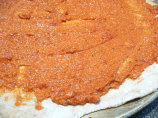 Photo by Mikekey
Prep Time: 10 mins
Total Time: 50 mins
Serves: 4, Yield: 3 cups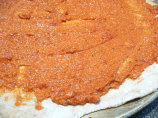 Photo by Mikekey
About This Recipe
"Cheat your way to better health with Top Secret Recipe host Todd Wilbur's reduced-fat, sugar-free version of Domino's pizza sauce."
Ingredients
1/2 cup canned crushed tomatoes

1 1/2 cups reduced-fat mozzarella cheese ( fancy shred)

1 cup tomato puree

1/4 teaspoon salt, plus

1/8 teaspoon salt

1/8 teaspoon ground black pepper

1/8 teaspoon garlic powder

1/8 teaspoon ground oregano

1/8 teaspoon dried basil

1/8 teaspoon dried marjoram

1 pinch ground cayenne pepper
Directions
Make the sauce by combining the crushed tomatoes with tomato purée. Combine tomato sauce with other sauce ingredients in a small saucepan over medium heat. When the mixture begins to bubble, reduce heat to low and simmer, covered, for 30 minutes, stirring occasionally. Remove from heat and cool, then chill in a covered container until you make your pizza.