Whole-Wheat Canadian Apple Pie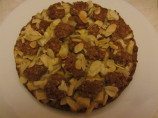 Photo by Nellinka
Prep Time: 20 mins
Total Time: 1 hr 10 mins
Serves: 6-8, Yield: 1.0 pie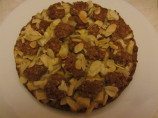 Photo by Nellinka
About This Recipe
"I found this one in a Dr. Oetker cookbook. I used spelt bran instead of finely ground spelt and it turned out fantastic, so I think spelt flour - or any other whole wheat flour for that matter - would do the same trick."
Ingredients
2/3 cup butter, softened

5 tablespoons maple syrup

1 vanilla bean

3 eggs

1/3-1/2 cup spelt, finely ground or 1/3-1/2 cup whole wheat flour

1 teaspoon baking powder

1 1/3 cups rolled oats ( crush them a bit in a food processor)

1 1/3 lbs apples, peeled and diced ( sweet or tart it's up to you)

1/4 cup sultana

1/4 cup butter, chopped into flakes

1/3 cup sliced almonds
Directions
Preheat oven to 375-400 °F.

Beat butter in a large bowl until creamy (about 30 sec.).

Gradually add maple syrup and vanilla seeds.

Beat until the mixture becomes creamy and then stir in the eggs, one at a time.

In a separate bowl mix spelt, rolled oats and baking powder.

Gradually add the dry mix to the butter-egg mixture. Stir well.

Put 2/3 of the mass in a well greased 9 inch pan and smooth down.

Peel the apples and cut them into small pieces and spread them on the batter.

Scatter sultanas over the apple fill.

Using 2 teaspoons, spoon the remaining batter into heaps and spread them over the apples.

Spread sliced almonds and butter flakes over the pie.

Bake at 375-400°F for 50-60 minutes. Check it after 35 minutes and cover with foil if the surface gets too brown.

Serve with whipped cream or maple or ginger syrup. (I use Candied Ginger and Syrup).